Metro Self Storage Joseph Zatzman
201 Joseph Zatzman Drive, Dartmouth, NS
Up to 30% OFF select units*
Photos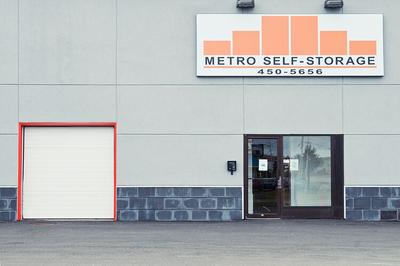 Hours
Office Hours

| | |
| --- | --- |
| Inquiries | please visit Thornhill location |
| Call | 902 442 9069 |
Access Hours

| | |
| --- | --- |
| Daily | 24 hours/day |
About Metro Self Storage Joseph Zatzman
Metro Self-Storage offers 24-hour access.... so you can move your goods when it's convenient for you. STUDENTS - going home for the summer? Store all of your dorm items here at a discounted price Call NOW! If you've sold your house and have to rent for awhile, store your extra furniture until you find the home you're looking for. Selling your home? Store extra items before prospective buyers come to call. Your house will look more spacious and attractive. You'll sell your house sooner with the help of Metro Self-Storage. Apartment and condominium dwellers: Short on space? You can store household goods at a reasonable cost. Building a new home? Use Metro Self-Storage while your new home is being built or are experiencing construction delays.
Up to 30% OFF on select units * Call for details
Features
Climate Control
Drive-up Access
24/7 Security Monitoring
24 Hour Access
Parcel Delivery Acceptance
Packing Supplies
Dollies & Carts Available
Payment Options
Vehicle Storage
Hours
Office Hours

| | |
| --- | --- |
| Inquiries | please visit Thornhill location |
| Call | 902 442 9069 |
Access Hours

| | |
| --- | --- |
| Daily | 24 hours/day |
Facility Reviews
---
Clean and set up well staff friendly to speak to and love the use of carts to move things
---
Their phone line doesn't work, not sure why?....been trying to get ahold of them for the past half hour.
---
Worked on the final stage of construction lots of storage units available of different sizes.
---
So great here. I have been into their competitors places and they are hectic and crazy especially during the peak moving days (end/start of the month) This place is great, drive in, easy short distances, one floor - no elevator. Seriously think about that alone speeds up moving so much.
---
We stored our belongings here for 4 years when my family moved up North. We were unable to go and check the unit and/or the contents of the unit for 4 years. When our movers moved the items to our moving truck, there was evidence of a mice colony and droppings all over our belongings. In addition, the unit and all of our contents smelled like an old musty, moldy, basement. We ended up taking all of our large furniture items (sofa and chair) 2 beds, mattresses and box springs (that were plastic wrapped and covered for storage) to the dump. We couldn't shampoo, clean, air-out the items enough to use them. Do not waste your time and money storing your items here. I would give a 0/5 but Google will not allow it.